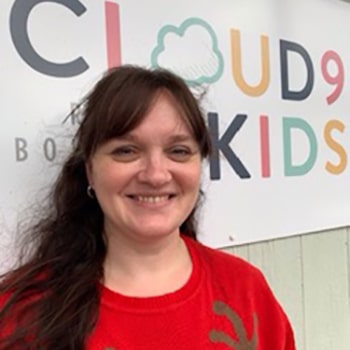 Katy Evans
In 2015, Katy Evans was injured in a car accident, which left her with chronic migraines that contributed to the end of a 20-year career and the start of a deep depression.
She describes it as the "lowest point" in her life.
"The loss of my career was devastating to me, yet it also presented a unique opportunity to start something completely fresh," says the single mother of two. "I made the brave choice to start my own business."
With support from Rise, in Fall 2019 Katy launched Cloud 9 Kids, a re-sale boutique that curates brand-name, gently used children's wear and new/nearly-new books, toys and gifts.
But just six months after Cloud 9's doors opened in Lucan, Ontario, they were forced shut by the pandemic. And Katy was forced to expand online much sooner than planned.
"The most fulfilling experience over the past year has been learning how resilient I can be. Being agile, creative and flexible has been key to surviving—skills I've discovered I'm pretty good at!"
Indeed, the online sales that supported Cloud 9 Kids through COVID closures now account for nearly half of weekly sales. Katy's been taking social media marketing courses and with her bricks-and-mortar back open, she's looking to expand again—this time to a larger retail space in a more lucrative location.
And while revenue is one of Katy's measures of success, it's giving back that sends the entrepreneur afloat.
Accordingly, Cloud 9 Kids sources from local vendors, fundraises for local charities, and runs clothing drives to ensure local kids stay warm in the winter—pandemic or not.
"I find that at our lowest, if we can reach out and help another, it comes back double."