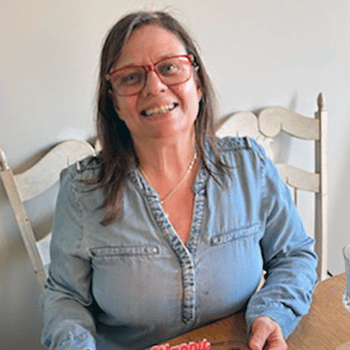 Joanne Stirling is a 56-year-old woman with no pension. Never married, she's a single mom who says she has spent her life raising her now 27-year-old son. From Portugal Cove-St. Philip's, Newfoundland, she spent 30 years as an outside sales rep, delivering industrial supplies to marine, oil and gas, construction, and hydro operations.  
Then, last year, at 55, Joanne was diagnosed with Attention Deficit Hyperactivity Disorder (ADHD)—to a rather unexpected outcome.  
"That change in my life … really made my business side kick in," Joanne says. "Starting new medication has been like winning the lotto for me. It turned my jumble into reality … ADHD made me scared to speak. I felt fake; like my body and my soul were not connected. Now, I have confidence. I have hope." 
Joanne's hope translates into hope for her home province too.  
She says 75% of Newfoundland's food is imported from the mainland, subject to myriad disruptions and delays caused by climate change 
"I decided to start small—to learn to grow and sell my own produce. I have my application accepted at the farmer's market, and I have spent over a year researching, writing my business plan and sourcing funding." 
As a client of Rise's Small Business Lending Program, Joanne secured a loan to buy a greenhouse where she can grow produce year-round.  
"My happy place is watching plants sprout and grow," she says. "It gives me a sense of purpose and beauty." 
Like her plants, Joanne hopes to eventually grow her business, A Greener House, into a commercial farm. Using Controlled Environment Agriculture with Solar Greenhouses and Energy-Efficient Systems, she will cultivate produce that she can sell into the local distribution chain to give back to her community. 
"I have sold industrial products for other companies my whole life," Joanne says. "When I start selling my own produce that I have grown myself, I will be proud."