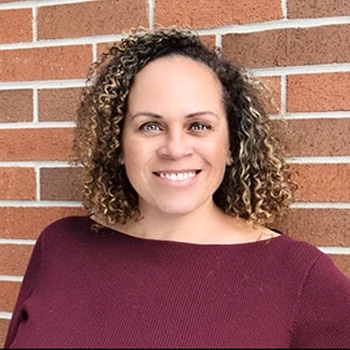 Advocating Openness & Inclusive Employment: Karen Clarke
After a 20-year career that spanned everything from journalism and sales to the labour sector, Karen Clarke decided to take a step away from her full-time job.
"I finally had to face the fact that I have severe anxiety and depression," she says. "I was on leave for about a year and a half; then the pandemic hit."
Karen has three children—her son, Julien, 25, and two daughters, Sheridan, 20, and Simone, 17. The eldest and youngest both identify as neurodivergent. During lockdowns, as the hours of Netflix began to wear, Karen and Julien (a recent Psychology grad from the University of Toronto) started to brainstorm what might come next for them.
With her labour experience, Karen knew all about the service gaps that exist for people who face barriers to employment due to mental health or variant abilities. She'd witnessed the typical cycle—wage subsidies would get an individual hired, but without proper support, they would almost inevitably end up unemployed again.
"Frustratingly, this could still be seen as a positive outcome for funders, because there was employment," she says. "But big picture, that person stayed on the hamster wheel of unemployment—a cyclical pattern that is devaluing, demotivating, and hard to watch."
Karen decided to stop watching and start acting. In August 2020, she incorporated ASpectrum.
Serving the neurodiverse community, which includes individuals with Asperger's Syndrome, similar Autism Spectrum profiles, Tourette Syndrome, Attention Deficit Disorder, Obsessive Compulsive Disorder, and Social Anxiety Disorders, ASpectrum specializes in strength-based, trauma-informed job coaching and professional development. It provides neurodivergent career seekers with support services to help them find and retain employment and works with employers to create inclusive spaces where neurodivergent individuals can succeed.
To hone her business plan and for the financial support and mentorship, Karen applied to the Rise Small Business Lending Program.
"One of the great things about Rise is it gives an opportunity to really new start-ups," she says. "I also knew that an organization that puts mental health first would be very compassionate—and they were."
In little over a year, ASpectrum has developed multiple community partnerships, and a national one with Ready, Willing & Able. And while Karen would like to grow to international scale, she's not rushing it.
"One of the things that makes us unique is our individualized support, and when you grow too fast or too large, you can end up losing some of that."
This first-time entrepreneur also wants to be sure not to lose herself—something she says her Rise mentorship has helped with.
"A lot of what I work through with my mentor isn't necessarily the nitty gritty of the business; it's more how I can remain authentic to myself and my self-care while running the business."
A business that now has 12 professional coaches and three full-time employees, including Julien, her co-founder.
Her daughters are involved too.
"It's actually a lot of fun," Karen says of juggling the roles of mom and boss. She's also embracing her role as advocate.
"I didn't want to talk about my mental health before because of the stigma. I think working with Rise has taken away that fear. I feel like I've found a place where I'm respected and appreciated and seen as a whole, not just a diagnosis."
Now, Karen pushes herself to speak openly about her challenges.
"I want people to know that there's always the possibility of movement. It's so important not to remain stagnant because you feel like you have no options. There are always options, you just have to find them."
Congratulations to Karen Clarke on receiving the 2021 Bell Let's Talk Start-up Award.