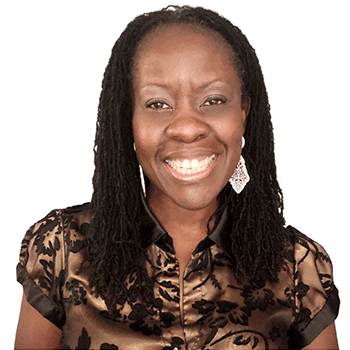 Andria Barrett wanted to be a public speaker.  
She reached out to all sorts of agencies and organizations. She applied, sent demo tapes, did the follow-up, but didn't get any response. 
"Unfortunately, I've always felt like I was the only Black person in the room," Andria says. At conferences, workshops or gala dinners, she says she would never see many people who looked like her. Yet, at the same time, she often found herself trying to help event organizers connect with diverse speakers. From that juxtaposition, Andria says she realized that if she wanted there to be an agency that represented people who look different from the status quo, "I would just have to create it myself." 
So, she did.  
In 2016, Andria founded The Diversity Agency—a speakers bureau that specializes in representing BIPOC speakers. The agency also has a consulting arm that provides Diversity & Inclusion training and strategic consulting to companies that want to connect with and better understand Black communities.   
Early in her journey, Andria sought entrepreneurial support from Rise's Peer Supported Startup Program.  
"Rise made us walk through our business plan from beginning to end to know what our product was, know who our target audience was, know how to break down out costs, [etc.]," Andria says. "It was so helpful because with a strong foundation, you save yourself from a lot of mistakes." 
Today, as The Diversity Agency CEO, Andria leads a team of three. She is also one of 15 diverse speakers on the bureau's roster who represent a wide variety of expertise. She is a Wellness & DEI Speaker. As a nutritionist working with people who have prediabetes or Type 2 diabetes, Andria speaks to managing blood sugar and leading healthy lives with diabetes. As a small business advocate, she speaks to corporations and fellow-entrepreneurs about learning how to balance stress, wellness and business—a talk that she has had to learn to walk for herself.  
"As an entrepreneur, in the beginning you abandon all things healthy. For me personally, I was doing everything that I tell my clients not to do—working morning to night, just go, go, go," she confesses. "Now, every day before I start work, I go to the gym. It's great for me mentally and physically … and helps me perform better at work." 
For many entrepreneurs, mental and physical wellbeing are common sacrifices, but Andria says, "We need to make sure people are doing the little things [for their wellness] so that when they're business is growing and flourishing, they are healthy enough to celebrate and enjoy it." 
And it seems, as The Diversity Agency gears up for major opportunities in 2023, including Black History Month and Women's History Month, and looks towards expanding in the coming years, Andria is enjoying it.   
"Rise was such a positive experience for me that helped me set the foundation to get started," she says. "What motivated me was a lack of representation of BIPOC speakers, and I'm proud that I've been able to give people the opportunity to work and share their message." 
Congratulations to Andria Barrett on being named the 2022 Rotman Family Entrepreneur of the Year.