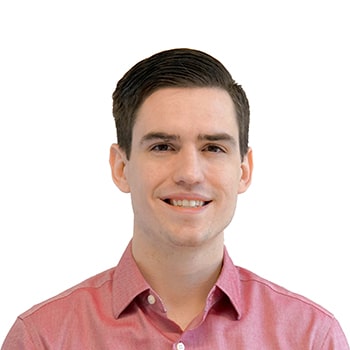 Alex Smeall
For Alex Smeall, much of the motivation to volunteer with Rise came from a desire to pay it forward.
"I've been very fortunate in my life to have had access to high-quality education and career opportunities, and through both, I've met some truly inspiring and supportive mentors," Alex says. "I wanted to find a way to give that support to others."
Well, Alex found Rise — "a perfect fit." He joined the Small Business Lending Program as a volunteer mentor and was paired with Alistair Melville, founder of Serenity Harbour Inc.
As a digital performance manager with experience in digital marketing, social media and digital retail, Alex felt the mentoring relationship was another great fit.
"When Alistair and I met, he had a business plan and a draft of his novel, Great Shep," Alex says. "In the year since we've been working together, Alistair has published his novel via Amazon and has gotten up and running on Instagram to advertise it."
The first-time author is also working on his second novel, which is almost ready for review.
Not a writer himself, Alex says the most important thing a mentor can do is simply be available to their mentee.
"You are not going to have an answer or a solution to all of the challenges that they are facing in their business, but you can always be in their corner. The best thing you can do is be an ally and help keep them accountable to their goals and timelines as best as possible."