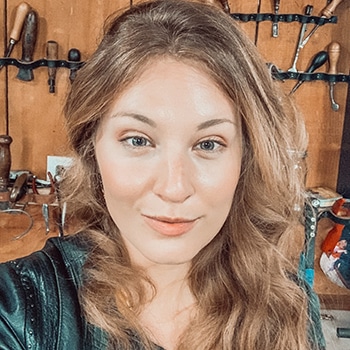 Becca Meadows
"Although I was always intrigued by the idea of starting a business in apparel and design, never in my life did I think that this would be my career," says Becca Meadows.
But then one day in 2012, she woke up unable to walk.
"It was during this experience, following my diagnosis with a chronic illness, that I started Sadelmager Design House," she says.
Following in the footsteps of her father, who started a leather and tack business in retirement, Becca began developing her concept for using traditional saddlery techniques to create durable custom leather apparel without compromising quality or style.
"Mostly bedridden then, I spent what energy I could drafting a business plan, drawing designs and seeking inspiration," she says. "I wanted to create something sustainable, both in how it was built and how it could be used."
Becca dedicated herself to Sadelmager full time in September 2020, and through March 2021, continually met and exceeded her monthly sales goals. Now, she's focused on scaling her business—a goal Rise is helping her to achieve through the EnterpRISEing Youth Plus Program and a microloan.
"Rise has helped me grow my business through financial support, and most importantly, personal and professional mentorship," she says. "I've gained confidence in my ability to run my business and find work-life balance."
And the flexibility of entrepreneurship means Becca, who lives with chronic illness, can prioritize her health when she needs to.
"Like any entrepreneur, my business is a part of who I am," she says. "But Sadelmager isn't just a passion for me; it saved my life. It gave me purpose on days I had none.  For that reason, I will always give it everything I have."