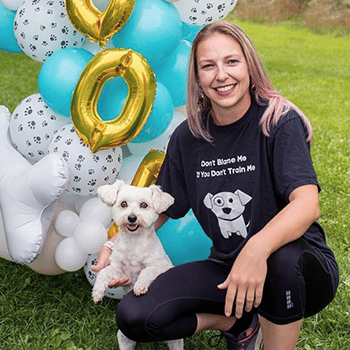 Britnie Mousseau
Britnie Mousseau says she became very depressed and felt under stimulated working in the normal corporate environment, "but once I started working with dogs, a whole new world opened up for me."  
She says starting her business, Sit Happens Dog Training, was "a scary step," but one that was vital to her mental health.  
"I started to enjoy the freedom I had to plan my own day," she says. "Having the ability to do different tasks that encouraged me to learn and take risks really gave me a sense of purpose." 
While it's been 10 years since launching her business, the resident of Halton Hills, Ontario, says that 2022 has been her toughest year yet. In a changing market, she's faced new competition and a general post-pandemic decline in sales as people get back to things like social activities and vacations. So, Britnie says she's had to get a little creative. Currently, she's on the hunt for a property to lease, where Sit Happens could offer services that do not require the owner to be present, such as day training and boarding. 
"My main priority is to improve our cash flow and pivot with the market instead of losing sales." 
This story of perseverance may not have always been possible for Britnie, but entrepreneurship has helped her overcome a lot of her social anxiety and learn many skills for taking on new challenges—something she credits Rise with helping her achieve. 
"Rise was the first 'person' to believe in me," she says. "At the time that I [joined the Small Business Lending Program], I was surrounded by people who were not interested in my growth …  Rise worked with me and gave me the chance to grow. The loan was like I finally had someone saying, 'I believe in you, and you can do this!'"