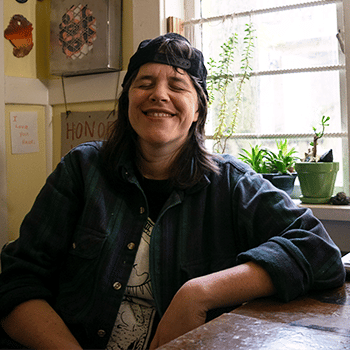 Heidi Nagtegaal is a tarot reader by trade. Their business, Tarot Time with Heidi, was already established when the pandemic rendered their studio space too small to host clients safely. 
"I've always wanted to make tarot-inspired clothing and decided [during the pandemic] was my time," Heidi says. "My reading room transformed into a clothing cave, and By Tooth And Claw Clothing (BTACC) was born!" 
In just over two years, Heidi has turned their long-time idea into a clothing and accessories line that sells online and consigns in 11 stores across Canada. 
"I've had [BTACC] planned out in my head for years. To bring it out of the ether was pure joy—a lot of hard work and learning, but rewarding and fulfilling, too." 
Heidi says that effort and education includes overcoming "straight up gaps" in their experience. As a Small Business Lending Program client, they've received mentorship and financial support to help bridge those gaps. Self-described as "extremely neurodiverse," Heidi says they run their business like an art project—which has its advantages.  
"But pair that with my mental health and the fact that I didn't really have any business experience before this, and I'm a mess when it comes to time management and knowing how to grow. [My Rise Mentor] Glorie helps me prioritize things so I don't waste my time and helps me understand how business works so I can maximize impact." 
As for their loan?  
"Rise helped me invest in merchandise, so I could grow my consignment … Since I was able to use the loan to release one of my early lines, I was able to get feedback from the stores I consign with, and they are game for the new lines when I release them.  
"Knowing that I have active buy-in to scale is a great confidence booster to expand and grow!"