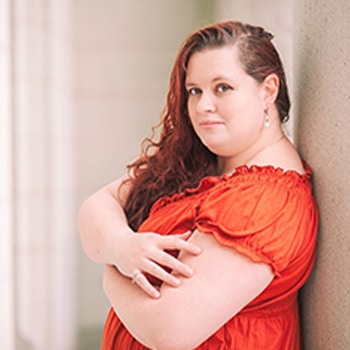 Caet Moir
As a certified doula, fertility Reiki and therapeutic arts practitioner, photographer and the owner of
Novadia Creative Wellness
 (which provides fertility, pregnancy and postpartum support to families in Windsor, Nova Scotia), Caet Moir has long been a lover of all things baby.
However, she was frustrated by seeing children's stores automatically divided into two categories—girls and boys; feminine, masculine; pink and blue.
So, "the non-binary option I have identified in myself decided to open a non-binary baby shop," Caet says. And Enby Baby was born.
A new and pre-loved clothing boutique dedicated to 100% gender-free products, Enby (the phonetic pronunciation of "NB," an abbreviation for "non-binary") started online. But when a twist of chance presented the perfect space in her neighbourhood, Caet decided to establish a physical store too.
Doors opened in September 2020, just before the pandemic's second wave—though "at the time," Caet notes, "there were few restrictions in place."
Despite a first year characterized by forced closure and uncertainty, Enby Baby leveraged online marketplaces, curbside pickup, and the support of a Rise loan to keep the business running.
But COVID-19 hasn't been the only challenge.
Caet lives with Autism, anxiety, Attention Deficit Hyperactivity Disorder (ADHD), and Rejection Sensitive Dysphoria. She says that running her own business is the only way she can hold a job and Rise's mental health-centric approach to entrepreneurship has been a big support.
"With my neurodiversity, my Rise mentor has been excellent at helping to keep me on track," Caet says. "Rise has given me the confidence to move forward. I want Enby Baby to be known as THE resource for all things baby in Hants County, Nova Scotia."