Mentorship Master: Meet our Volunteer of the Year, Ian Wayne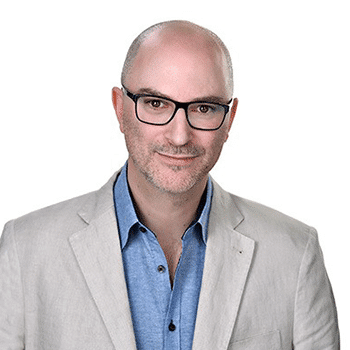 When he started looking for ways to volunteer his time, Ian Wayne didn't have anything particular in mind. He'd never even heard of Rise.
Then, about a year-and-a-half ago, he stumbled on a call for mentors posted on a generic volunteer website.
"I read the Rise opportunity and it resonated with me immediately," Ian recalls. "I really liked the mission—everything that Rise was about interested me, and it seemed like something I'd enjoy being a part of. And with the experience I'd gained in my career, I thought I could be valuable to a mentorship program as well."
Ian has a diverse and interesting CV. Born in London, England, he has lived and taught English in Japan, worked in the film industry in Vancouver, and earned his Master's in Organizational Psychology from the Manchester Business School.
After graduation, Ian accepted a job in Canada's Capital at Human Resources tech firm, HRSG, where he currently heads-up product development.
"I've been in Ottawa for coming up on nine winters now," he jokes.
A sense of humor is just part of why Ian's first and only Rise mentee so far, Krista Ryan, nominated him for our 2020 Volunteer of the Year award.
The two of them have been collaborating for more than a year to build Krista's business, Sassy Threads, where she sells custom-made sensory items, such as weighted vests and blankets, designed for people calmed by deep pressure stimulus—like her son, who is on the Autism spectrum.
"Working with Krista, I've had a lot of exposure to stuff that I wouldn't have come across otherwise," Ian says. "What she's trying to do is in a domain that I didn't know anything about, so it's been very interesting for me to uncover the questions that drive her business and how she can try to grow."
Connecting every two or three weeks, Ian and Krista have truly built an award-worthy mentor/mentee relationship. In her nomination of Ian to our top volunteer honour, the Sassy Threads founder lauded him for encouraging her, respecting her definition of success, being responsive, honest and transparent in their communications, offering practical, realistic business advice, always listening and never judging.
"Ian has been a blessing," Krista wrote. "He's just been the most positive person I could have hoped for to help me reach my success."
The feeling certainly seems mutual.
"I feel quite invested with Krista," Ian says. "I'd like to see her continue to grow and help if I can."
So, what is our 2020 Volunteer of the Year's advice to anyone considering becoming a mentor?
"Do it!" Ian says. "It's tremendous work. It's very fulfilling and interesting, and it's work that gives you something to learn while making a real difference in the community."