Celebrating Rise
A Year. A Decade. Our Future.
Celebrating
Rise
A Year.
A Decade.
Our Future.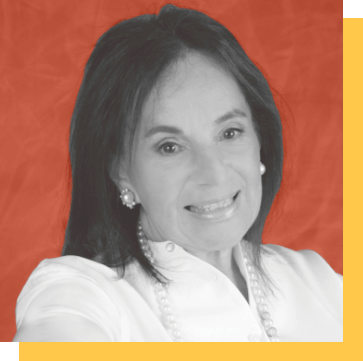 Letter from Our Founder
Sandy Rotman
I've always had a passion for helping others. The idea for Rise started more than 10 years ago, when, together with my husband Joe, we actively collaborated with the Rotman School of Management and the Centre for Addiction and Mental Health (CAMH) to develop an initiative at the intersection of employment, education, and mental health. We wanted to provide individuals with mental health and addiction challenges with opportunities for meaningful work, on their own terms, through self-employment. Joe would be so pleased to know that the organization we began a decade ago has brought a sense of purpose, financial independence and improved quality of life to so many Canadians. To our Rise clients: The Rotman Family admires your passion, talents and perseverance. We are proud of each and every one of you and wish you the very best for the future.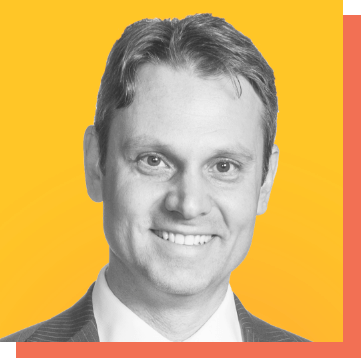 Letter from our chair
David Smith
As we mark our first decade of impact, I could not be prouder of how far we have come. It is a great privilege to see how Rise has evolved into a vessel of empowerment to hundreds of entrepreneurs across Canada. It is clear that our successful approach is only possible because of the amazing individuals who have dedicated themselves to advancing our cause. Beginning with our founder, Sandra Rotman, extending to our wonderful staff under the inspiring leadership of Lori Smith, our committed supporters and partners, and our network of highly skilled volunteers across Canada – all working together to raise the capabilities of our clients and the communities they operate within. Rise has a bright future, thanks to the last decade of support, partnership and hard work from talented people who have lent a hand to help others achieve success.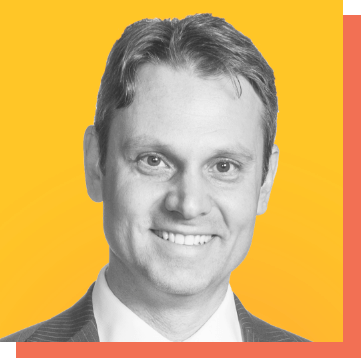 Then & Now
A Look at How Far We've Come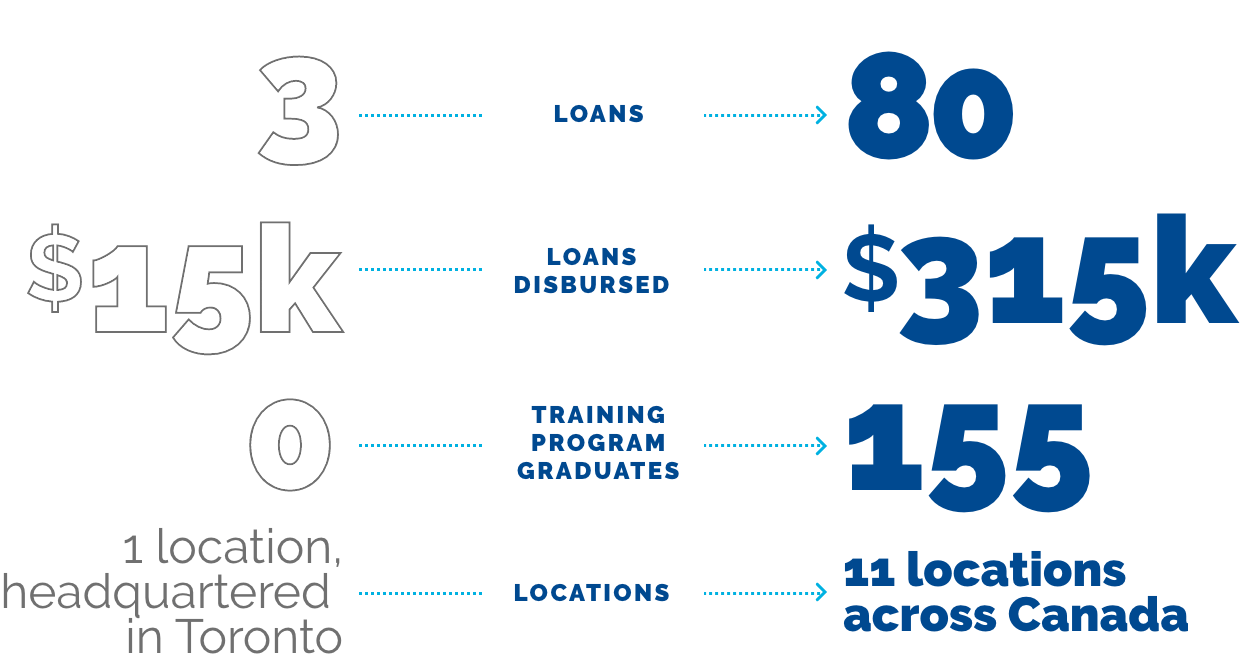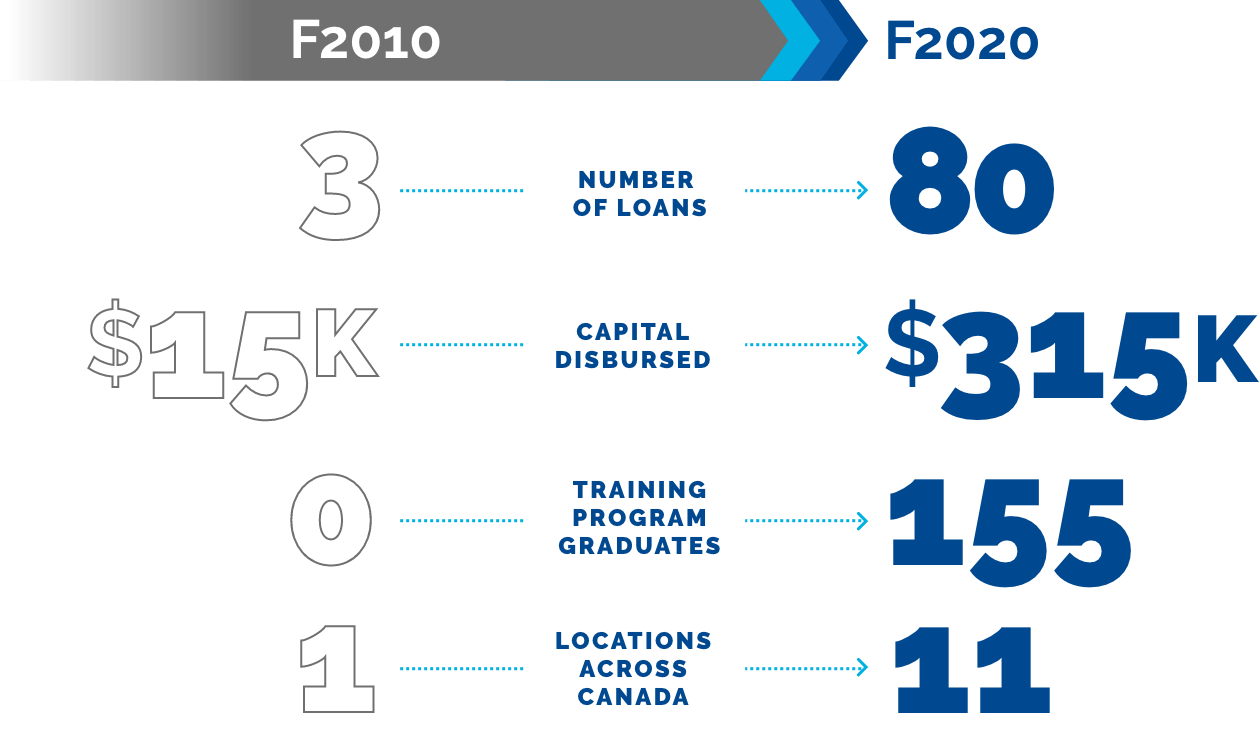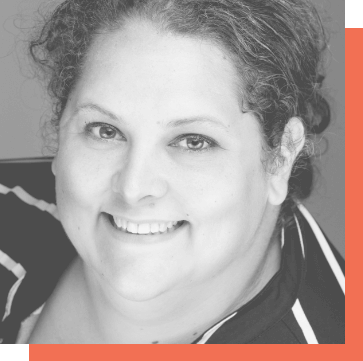 Client Testimonials
Lisa Allain is a shining light in her community and ours. Her cakes and treats have earned multiple local awards and she's also been recognized as Welland's Woman Entrepreneur of the Year and a top 40-under-40 business leader.
National Growth
Rising Coast
to Coast
Rising Coast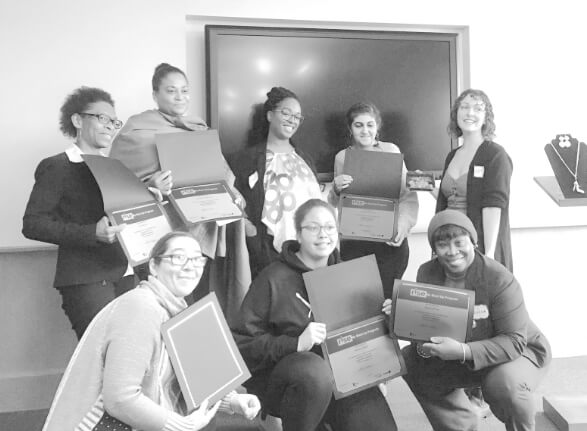 to Coast
A big focus over the last ten years has been to expand our reach across Canada, to become the leading national organization working at the intersection of entrepreneurship and mental health. From the west coast to the east coast, and through community partners like Elizabeth Fry Society of Toronto and Victoria Community Microlending in BC, Rise continues to build local presence.
Find out how much Rise has expanded and where to find local resources across the country.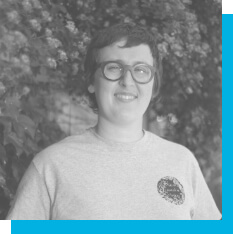 Claire McGee
Buds Garden Services – Toronto, ON
Peer Supported StartUp Program
In 2016, Claire launched her business, Buds Garden Services, building small-scale flower farms in people's backyards. She came to the Peer Supported StartUp Program looking for help with cash flow, mentorship and to learn from other people and sectors. Enrolled in a Horticultural Therapy course, she hopes to move her business towards a "greater purpose" by supporting individuals with mental health challenges through gardening activities. Claire values the mentorship and coaching from Rise. It has inspired her to continue her business and given her the ongoing confidence and encouragement she needs.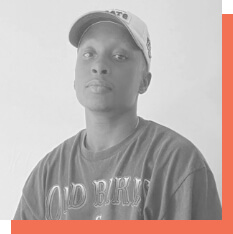 After experiencing mental health challenges, Jonathan wrote and illustrated a comic book based on personal experiences, and introduced them along with Thinkin' caps, which are intended to inspire his audience to look inward. Embracing mental health through storytelling has been a meaningful and impactful outlet for Jonathan. I Am Awear sells Thinkin' caps to high schools and universities across Canada and will soon be present on campuses, supporting the mental health cause. Working with Rise helped him to re-launch his brand, while providing valuable business planning support.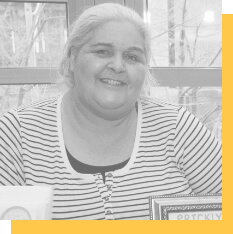 Catherine founded Prickly Cactus Collage, a proudly queer/bi-owned online storefront with a focus on activist and feminist buttons (badges), cards and stickers. It started as a creative outlet for Catherine and a way to supplement her disability income. Prickly Cactus Collage has since taken off to create Pride buttons for sales associates at The Bay and Saks in Toronto, pronoun/gender identity buttons for Google's offices across North America.
Volunteers
Our Volunteers Are Incredible People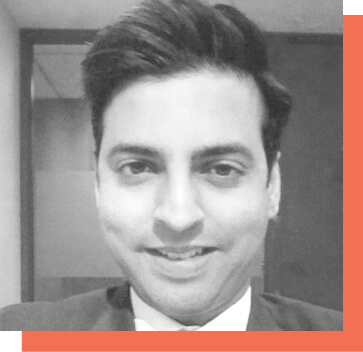 Yasir Asif
Yasir Asif has worn multiple hats in the world of entrepreneurship. When Yasir first heard about Rise, he realized that he could bring his expertise and passion to help Rise clients grow and start businesses. "The Rise mission resonates profoundly with me. I am very passionate about empowering people to uplift their livelihoods through entrepreneurship. Business can and should be used as a positive force to change for the better. Rise is a great way to do that!" said Yasir.
Yasir is a mentor for the Rise Youth Small Business Program. He finds true joy in witnessing the growth and progress of each participant throughout the program. "Seeing how student entrepreneurs learn and gain the confidence to deliver a business pitch, while also hearing personal stories full of evidence of hard work, resilience, talent, and fight against very challenging odds — this is truly an amazing experience for me!"
"I am humbled as an individual to learn from my Mentees. We [Mentors] learn a lot in the process and we are honoured to become part of this journey. We get to connect through a shared passion for business and learning, and form a community this way!"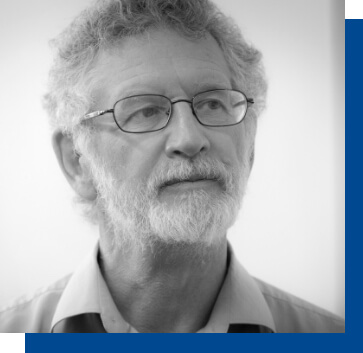 Bernard Lewis
Bernard Lewis had a 30-year career with Ontario Power Generation (OPG) that saw him take on roles in Engineering, Finance, and Marketing. As a graduate of Rotman, he was approached by the school in the formative days of Rise, and agreed to be a volunteer. He's seen that original kernel of an idea grow into a respected organization today, and is proud to have been part of its development.
For Bernard, Rise gives individuals "a hand up, not a handout" and it's clear that our work makes a great difference to their overall wellbeing. A client in the very early days had mentioned to him that Rise was "the only organization that was willing to give them financial support and help to develop a business, which in turn gave them independence and had a really positive impact."
Bernard encourages active listening to be a good Rise volunteer. "The clients already have a lot of it [ideas] in themselves. It's about listening and helping them channel the idea into a business." Seeing people succeed is extremely motivating for him. Rise clients are in the driver's seat to develop their ideas and business, and volunteers are there to support and coach them along the way.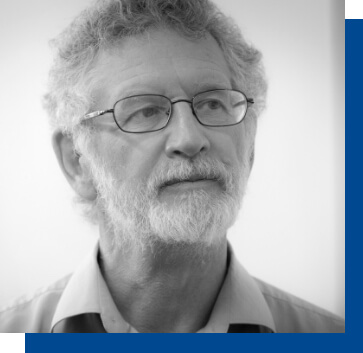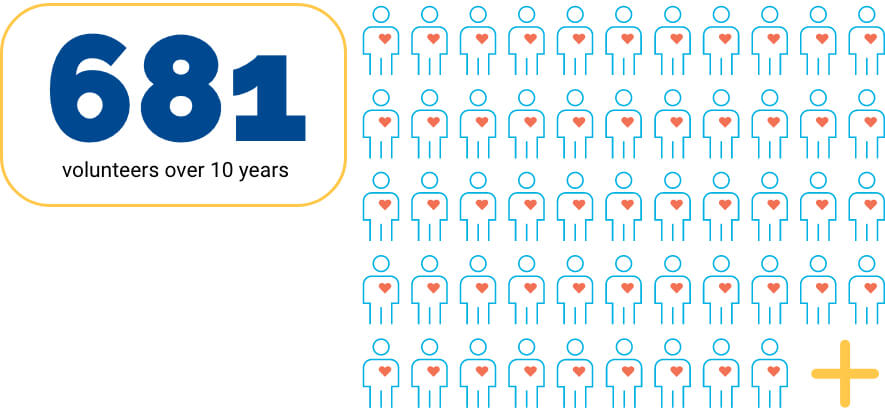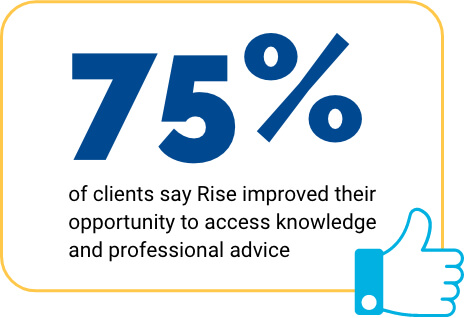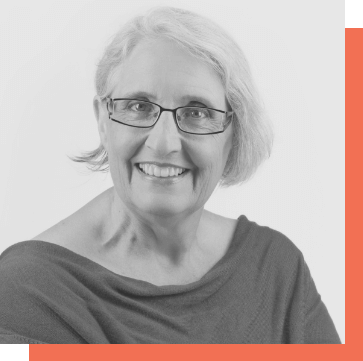 "Rise first helped me buy a laptop that I still use today, and set me up with an awesome mentor. Their staff responds quickly and warmly, and makes me feel supported. As my business grows, I want to return that support because I so appreciate their help and their whole reason for being."
– Linda Verde, EnterpRISEr of the Year, professional writer for organizations including the College of Nurses of Ontario.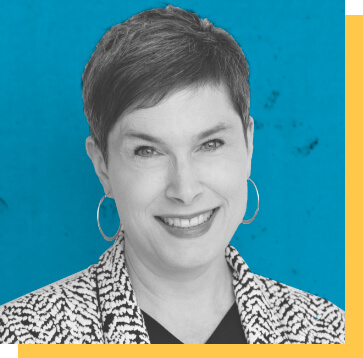 Letter from our CEO
Lori Smith
Rise is needed, now more than ever. Small businesses are key to the Canadian economy, representing 42% of GDP and 48% of new jobs and they are bearing the brunt of the economic downturn due to COVID-19 (RBC, Small Business Big Pivot, June 2020). Canada's recovery will depend on small businesses rebounding. As a national organization that enables small businesses across the country, Rise has an integral role to play. Looking ahead to our second decade, Rise will continue to establish a comprehensive national network of program loan sites, reaching urban and rural communities. Offering a mix of financial products and services, the Rise brand will become recognized as Canada's leader in entrepreneurial education and start-up financing for people with mental health and addiction issues. While in-person interactions will remain key due to the needs of our clients, the use of technology and other digital tools will be increasingly important in order to enhance and extend our reach. We look forward to collaborating with other like-minded organizations and continuing to integrate skilled volunteers to all aspects of Rise's business. I am excited and eager to get going, and want to offer my heartfelt thanks to all our donors and supporters for being with us on this journey!
When COVID Hit,
We Rose to the
Challenge
When COVID Hit,
We Rose to the Challenge
We were highly concerned about the impact COVID-19 would have on our clients. When asked, 66% of our clients told us that COVID-19 negatively affected their businesses. Knowing our clients operate vulnerable small businesses, we needed to step forward and offer our support.
We quickly moved online, and expanded our support, mentorship and informational resources. We launched a newsletter for clients so that they could easily find information on relief programs including CERB. And we offered temporary loan relief, with 70 clients moving to a reduced payment schedule.
At the same time, we paused our loan program to give our prospective clients time to evaluate their business plans within the context of COVID-19. That meant that, though we had been on track to hit a record 100 loans in FY20, we ended the year with 80 loans disbursed. While short of our goal, it was the best decision under the circumstances.
Despite that, as the economy stabilized and our community gained better insight into how the pandemic would affect them, we have seen a marked rebound in enthusiasm, with clients transforming their business models, adjusting pricing and forecasts, and bringing new products to market.
Capital Campaign
Investing in Our Future
In early 2020, we launched a $5M capital campaign in order to bolster the loan fund and create sustainability for the organization. The campaign goal was chosen based on Rise's data model, which shows how much loan capital we need over two decades, taking our repayments and delinquencies into account.
With these funds, Rise will be able to finance 150 loans annually, at an average loan size of $4,000. Despite the impact of the pandemic, we're thrilled to have raised $775,000 toward the campaign goal. We are deeply grateful to the Rotman Family Foundation for their generous lead gift.
Invest in the future of Rise.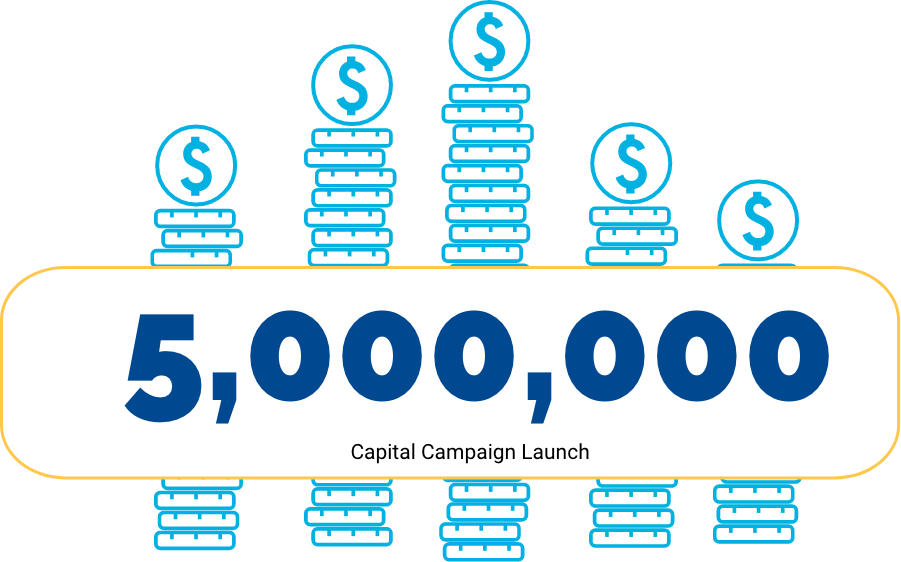 financials
Rise by the numbers
Rise is growing to encourage, empower, facilitate
and fund more entrepreneurs.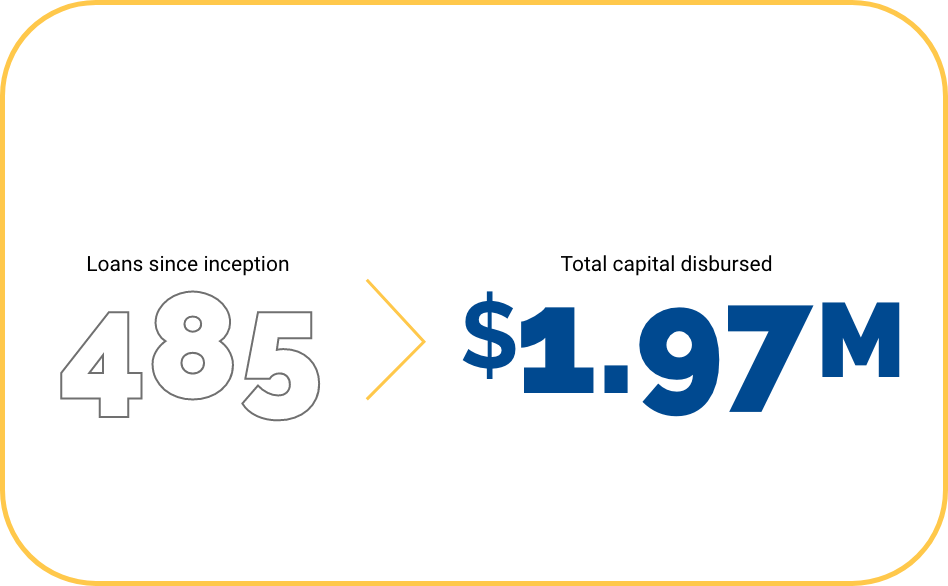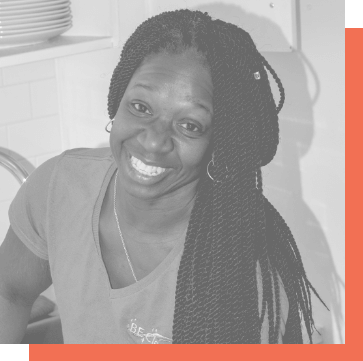 "I was fresh out of rehab and channeled all my energy to find my purpose – cleaning calms me, and owning my business gives me a sense of personal control, Rise was an invaluable asset to getting me started. I received a loan to get equipment and that was an incredible leg up. The personal support, mentorship, and constant personal emails to check-in helped to keep me sane and focused, and drove me harder towards success. My story is just starting really. I have further to go."
– Belinda Earle is the owner of Be Clean in London, Ontario. She started her business because of the satisfaction she gets from a clean property.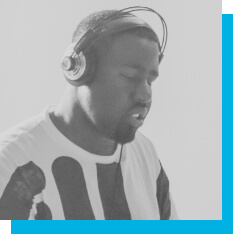 Jordel is a visually impaired vocalist, percussionist, producer/engineer and songwriter. He started his beat making, producing, and engineering company because he saw a demand for mix and masters. This musical engineer believed he could do things differently. Participating in the EnterpRISEing Youth+ program taught Jordel how to brand and market his business. He's completed two EPs for artists and has proudly mixed and mastered a project of his own.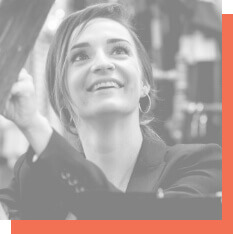 Bee and Key Boutique is a clothing consignment store offering a 50/50 profit for any commission made on consignment products. Rebekah's business prides itself on being transparent and fair, and is building a strong relationship with consignors. Rebekah says she learned how to separate the business and personal life, with the help of her Rise Mentor and Business Advisor, Rebekah has learned how to separate her personal and professional life, as well as better manage her schedule and personal wellness. Rise has also helped Rebekah simplify her business strategy and better understand her financials.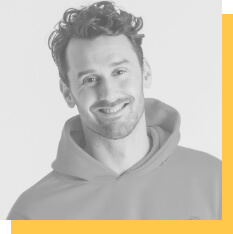 For Paul, creating Never Alone has been a therapeutic experience that helped him overcome depression after losing his father to cancer. He creates unique hoodies from scratch and connects people who have gone through similar experiences and empowers them to share their stories in the Never Alone online community. Rise has been instrumental to the growth of his business by providing safe learning opportunities and a support system he can always count on.
donors
Our Donors Make
Our community Rise
With your contributions, we served hundreds of clients in FY20, helping people build dreams and overcome adversity through self-employment.