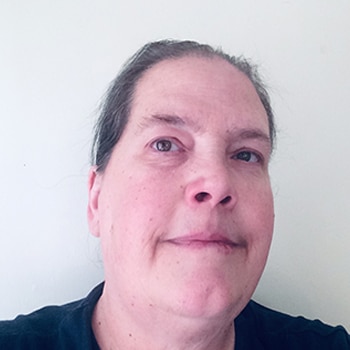 Mary Kalanuck
Five years ago, Mary Kalanuk experienced serious health issues that resulted in a disability. Unable to work, she became reliant on provincial income support. Unable to drive, she became distanced from her community.
Secluded, she began to experience depression… Secluded, but not alone.
"I had three dogs, so regardless of how I was feeling, they still needed care and attention," Mary says. "It's thanks to my dogs that I came out of my depression."
More than a pet owner, Mary had spent her life working with canines, from managing dog daycares and training centers to high-end boutique pet stores. So, when she began to revisit a lifelong dream of running her own business, the target audience was obvious.
Mary launched Honest To Dog, an online boutique for custom dog collars, leashes, and training tools, and she found start-up support in Rise.
"I knew a traditional lending institution was not an option because my credit had taken a hit," she says. "Rise took a chance on me and approved my first loan. It was an incredible feeling—it meant that someone believed in my business, not my bank account."
With her loan, Mary was able to buy bulk supplies and cut her four-week turnaround time on orders to just three days, drastically increasing sales.
But the payoff is much more than money.
"Having a dog-focused business brought me back to the community I thought I'd lost due to my disability," Mary says. "I feel truly successful when I receive messages from satisfied customers. As happy as I am generating revenue, I'm thrilled to know I'm making a difference in the lives of people and their dogs."