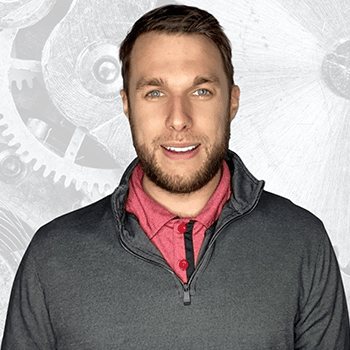 Shaun Pingitore says he's always been an entrepreneur, kind of.  
Growing up, he did the usual things like run a lemonade stand and shovel driveways, as well as some more inventive ventures. 
"Every Saturday I used to go to garage sales to look for electronics and video games," he says. "I bought things I knew the value of so I could flip them at school the next week." 
Despite his obvious penchant for business, Shaun says he decided to study psychology in university, with the intention of becoming a lawyer, like his older sister. But once he got to post-secondary, he realized law school wasn't his path, and decided instead to apply his love for psychology to the world of marketing.  
Today he is the CEO and Director of Strategy at Atlas Marketing Group Inc. 
But it was while still attending Toronto Metropolitan University (then Ryerson) that Shaun launched his first "real" business – a successful window cleaning venture – thanks to a program called The Summer Company, which gave students training, financing and mentorship to start a business.  
Perhaps more importantly, he says the experience set him on a path of volunteerism.  
"After completing Summer Company … I realized the massive impact a strong mentor can make."  
In fact, Shaun says he's benefit from mentorship in one form or another all his life. From childhood, he received guidance from his sister (the lawyer) and his dad and uncle, who both owned their own businesses.  
"I've avoided making a lot of my own mistakes because I've kind of always had someone tapping me on my shoulder [with advice]," he says. "I've been fortunate to have that, and I think being able to pay it forward to others is fantastic." 
Shaun began coaching people in the early stages of the business-building and eventually, "I came across Rise," he says.  
"As someone who struggles with anxiety and has been around a lot of mental illness in my life, I thought it would be a great opportunity to help people who are in need of particular entrepreneurial support." 
As a volunteer mentor, Shaun works with Rise training programs, taking part in group sessions and providing advice to new and aspiring small business owners. He says his approach to mentorship is shaped by the motto, "Play the cards you're dealt." 
"I'm really resourceful, and I think that's an important part of being a business owner … At the end of the day, you have to deal with what you have to deal with [and] I want to help people figure out how to best manage their individual challenges." 
To Shaun, the gratification comes when he can use what he's learned on his own entrepreneurial journey to inspire "lightbulb moments" in others.  
"When mentees leave calls with me visibly energized to tackle whatever business problem they're facing, that's the most satisfying feeling. Especially because I've been on the other end of it, hearing something that inspires me to persevere." 
Congratulations to Shaun Pingitore, 2022 Scotiabank Volunteer of the Year.