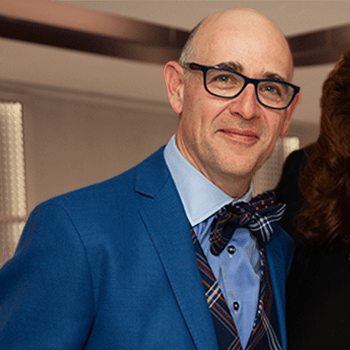 Martin Traub-Werner describes himself as a lifelong entrepreneur and his enthusiasm for business is clear.  
"I just love the business of business," Martin says. "I like talking about businesses, I like understanding how they work, I like unpacking them, I like poking holes in them, I like thinking how big they could be … [Business] is a magical process, and it's something that has intrigued me ever since I had a lemonade stand on the corner as a kid." 
With a background in human resource management, Martin approaches business from the perspective of people, so perhaps it's no surprise that when he learned about Rise's holistic, mental health and people-first approach to entrepreneurship, it was the beginning of an important relationship. 
Since 2020, Martin has volunteered as both a group and one-on-one mentor with Rise's lending and training programs. He's also a member of the volunteer Loan Review Committee and is a generous donor and advocate, helping to build Rise's network of supporters across Canada. 
That deep, multifaceted commitment is why Martin has been named the recipient of the inaugural Dave Richardson Champion Award. From 2022 on, the Champion Award will be presented annually to a Rise community member whose actions demonstrate a commitment to advancing Rise's mission through various means.   
In other words, a community member like Martin.  
He says his dedication to Rise is rooted in the opportunity to help ease the challenges of entrepreneurship so that individuals with mental health and addiction challenges can create meaningful outcomes for themselves and their communities.  
"People think being an entrepreneur is glamorous — but no, it's hard," Martin says. "It's hard, it's lonely … and the fact that there is an organization that not only provides money but also provides some infrastructure and business support is massively important." 
Just as Martin's personal engagement extends across many aspects of Rise's work, so too does his advice on getting involved.  
To new mentors, he offers three tips for building strong relationships with your mentees:  
"One, be invested but understand that it's not your journey … Two, be available, be flexible, be realistic, and be a cheerleader … Three, listen a lot and be grateful." 
As for individuals looking to invest in tangible impact, Martin calls the opportunity to help someone define and take control of their own productivity a "golden" one. 
"[Rise clients] are people who stand up and say, 'a traditional job is difficult for me because I've got mitigating circumstances, but I can still be productive.' And frankly, in many ways they become more productive because entrepreneurs are job creators … which is massively valuable to us all." 
And on the topic of receiving the first-ever Dave Richardson Champion Award?  
"It's always meaningful to be recognized by people who think you've done good work, but that should never be the end of the story, it should be the beginning," Martin says. "Hopefully, in my case, it really is just the beginning of the story, because I love this organization and what it does." 
Rise hopes so too, Martin. 
Congratulations to Martin Traub-Werner, recipient of the inaugural Dave Richardson Champion Award.