For Tammy Maki, Life is like a Box of Chocolates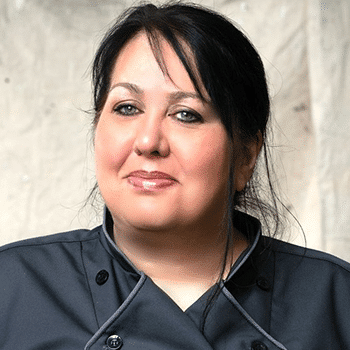 Tammy Maki's story is as complex, textured and diverse as a box of chocolates.
It begins with the 60s scoop, and a very young Tammy being taken from her birth mother.
"I'm finding out a lot about my Indigenous roots now," Tammy says, "but I was adopted into a wonderful Finnish family, and many of my earliest memories are of me and my mother in the kitchen."
Despite being a passionate baker since childhood, Tammy's career actually started in the electrical trade alongside her father. It wasn't until her 40s, while struggling with alcohol and a self-described mid-life crisis, that she decided it was time for a change—a big one.
She went back to school to become Chef Tammy Maki, certified Pastry Chef and Baker. Then, after many seasons honing her craft in some of the finest restaurants, hotels and bakeries across Canada, she realized, "I'm just not made to work for other people."
Luckily, she discovered Rise in Sudbury, ON and secured a loan to help her start a pastry consulting company.
"If Rise hadn't helped me, I still would've opened a business, but I wouldn't have been able to accomplish what I have," Tammy says. "I faced a lot of challenges, so just to get into a program and have somebody give me a bit of a hand, really helped me feel like I was doing the right thing."
For two years, Tammy laboured with her consulting company; then in 2020, when COVID-19 hit, she made another big decision—to rebrand and relaunch.
The result is Raven Rising, an e-commerce business as unique as Tammy is.
Focused on using traditional ingredients sourced from Indigenous people in Canada and around the world, Tammy now offers "Global Indigenous" chocolates and pastries that reflect both her heritage as a proud Saulteaux Ojibwe Kwe from White Bear First Nation in Saskatchewan, and her excellence as a Pastry Chef.
And with Raven Rising off the ground, recent personal discoveries have only reinforced Tammy's belief that she's on the right track.
"I just found my blood family and saw a picture of my (birth) mother for the first time," Tammy says. "I didn't even know that I was part of the 60s scoop. For 56 years, I believed my mom just didn't want me, but that's not true at all; so, all of the connection to my Indigenous self that I'd been missing, it's something I identify with more and more.
"I know I'm two years into (being an entrepreneur), but this is the beginning of a different kind of journey with a lot more self-awareness; and Rise is like my favourite blanket—I know there are people who care about me and my business and want to see me succeed."
For now, success is focused on Canada, particularly the market out West, but Tammy also hopes to eventually build a consumer base in the U.S., Europe and Asia. And she wants her work to raise awareness of Indigenous issues in Canada and promote other Indigenous farmers and producers around the world.
"I think until the end of my time, this is what I'm going to do—try and make things better in a way that makes pretty much anybody happy.
"For me, my hug is 'eat a chocolate'. It's who I am. It's comfort—really upscale, really good comfort."
Rise is proud to award the 2020 Bell Let's Talk Start-up Award to Tammy Maki.