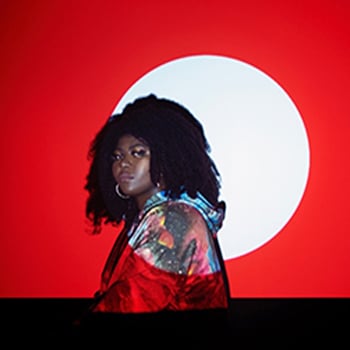 The Artist to Watch: Brittany 'Exmiranda' Manu Otchere
You may already know the name Exmiranda.
Perhaps you've seen it on a billboard in Toronto's Yonge and Dundas Square. Or maybe on TikTok. Or on one of dozens of editorial playlists on Spotify.
And if you haven't seen it yet? Well, just keep watching.
It's been a busy couple of years for Exmiranda, which is the stage name (and middle name) of Brittany Manu Otchere. The Toronto hip hop artist has built a fan base of more than 123.5k on TikTok, amassed more than 2 million streams (and counting) on Spotify, and recently released her debut album, Funk Break.
The momentum might fool you into thinking her success has come quickly or by chance, but that's not the case at all. It's the result of years of hard work, perseverance, and good business strategy.
"Music has always been a part of me," Brittany says. "I was always singing as a kid and in so many different talent shows. As I got older, I got more into poetry and did a lot of spoken word; then I started releasing music in about 2015."
Within a couple of years, she was ready to go all in.
"By 2017, I was taking it really seriously—I was making a lot of videos, trying to work with different producers, and figuring out ways to be more business-minded as an artist."
While researching different opportunities, she discovered Rise and applied to the Youth Small Business Program. In it, she started developing a business plan aimed at accessing funding, building her fan base, and finding other ways to sustain her career as an artist.
"My main goal is to be successful enough that I can transition out of working a nine-to-five."
Brittany's current job is as an antiracism policy consultant, where she says she has a lot of opportunity to evoke change and create space for people from racialized and diverse communities to actually see themselves represented. But leaving that work won't mean leaving the advocacy. Brittany is passionate about using her art to create platforms for social justice and inclusion. For example, in April 2021, she curated a Women in Hip Hop digital exhibition for Myseum of Toronto—a project she's received funding to repeat on a larger scale.
Accessing grants is one area where Brittany says she's exceeded her own expectations. In fact, she's already surpassed a few milestones outlined in her business plan, such as signing her first official sync deal (i.e., having her music licensed to moving pictures). And it was a big one—her track "Steam" is featured in the premiere episode of the Gossip Girl reboot.
"That was super exciting," she says.
As for other highlights, in August, TikTok brought her on for a campaign where she got to freestyle challenge Ludacris. She's also been invited to perform on Citytv, was named one of ET Canada's "Black Social Media Creatives to Watch in 2021," and did we mention that her Yonge and Dundas billboard also featured Drake?
"There are tons of really, really great things that I've been so blessed to be a part of, and I really consider my success the result of generating a mindset of not giving up," Brittany says. "Rise helped me understand that there's always opportunities to succeed, but sometimes you have to create them for yourself; you can't wait for other people to do it for you. You have to develop the business side of things and have a plan to ensure your success.
"That's been really monumental for me as an artist."
 Congratulations to Brittany 'Exmiranda' Manu Otchere on being named the 2021 Rotman Family Entrepreneur of the Year.