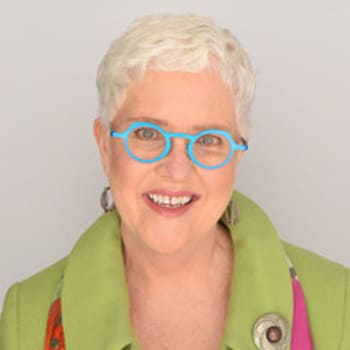 These Boots Were Made for Confidence: Meryl Cook
Meryl Cook owns a very important pair of red cowboy boots.
In a roundabout way, that story begins in 2015, when after 20 years as a homeopath, Meryl was diagnosed with breast cancer. Wanting to commit her energy to healing, she made the decision to leave her practice and shifted her focus to journaling and rug hooking.
"I'd been a rug hooker for years, but this meant sitting at the frame, hooking and writing full time," the Nova Scotian says. "In the first year, I wrote a couple of books and started a new business."
Before homeopathy, Meryl had worked in management consulting. Drawn back to the corporate world, she developed a way to introduce her art into the boardroom.
As founder of Meryl Cook Engagement by Design, she began facilitating hands-on leadership and team-building workshops centered on rug hooking. Bringing her equipment into workplaces, she'd lead teams through the process to create a rug design representative of their corporate vision. After the session, Meryl would leave behind her tools so groups could work on their rugs, to eventually be displayed in the office.
"It was pretty great," she says. But of course, this was all before COVID. As it did for so many people, the pandemic pushed Meryl's work online.
Which brings us back to the red cowboy boots.
"I like to incorporate chakra colours into my work and red is the colour of grounding," Meryl says. "When I do presentations, I wear my red cowboy boots – even if no one can see them – because they give me a boost of confidence."
She now runs virtual workshops focused on joy and self-compassion. She facilitates one called "Red Cowboy Boots: Choosing how to show up when life feels out of control," where she explores intention and moving from feeling vulnerable to empowered.
With Meryl's philosophy so closely aligned to Rise's mission and values, it's no surprise that she's a good fit for mentorship.
"I've had so many mentors who have helped me, and it's a great way to give back," she says. "I'm especially interested in Rise because, by supporting individuals who might otherwise have difficulty getting into or sustaining entrepreneurship, it's making a really decent attempt at breaking the cycle for people living in marginalized communities or in poverty."
In 2020, Meryl was paired with Rise lending client, Colleen Moffatt.
Based in Yarmouth, N.S., Colleen is the owner of 3C'S Custom Leather Works, a family business that does saddle repair and makes all manner of leather products, from belts and bags to phone cases.
"Colleen's work is beautiful, and I see huge potential for it, but I have to remember that it's up to her to set the pace," Meryl says. "I've learned to resist the temptation to just share everything I've learned in my 25 years as an entrepreneur. It's Colleen's business, and how fast or slow it grows is also Colleen's business. The most important thing I can do is hold space for her to work through her experience."
Having submitted Meryl's name for Volunteer of the Year, Colleen clearly appreciates the empowering approach.
In her nomination, she thanked Meryl and wrote: "I was in a dark place when I applied for Rise. Now, I am finally starting to see a light."
"Feeling like I can actually help has been very rewarding," Meryl says. "I've watched Colleen progress over the year—she's gaining knowledge and experience, and she's really gaining confidence."
Almost like she's got a pair of red cowboy boots on.
Congratulations to the 2021 Scotiabank Volunteer of the Year, Meryl Cook.