Paying it Forward: Zuberi Attard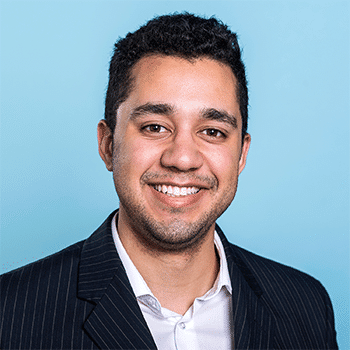 Zuberi Attard has always been ambitious; always been someone who wants to succeed. But the day that he found himself walking towards a homeless shelter in Peterborough with his entire life in two garbage bags, ambition gave way to fear.
"My luggage was lightweight, but I was carrying a much heavier burden—mental health and addiction," Zuberi recalls.
One day, some friends showed up.
"They told me, 'You're coming to live with us for the summer—we're getting you a job, and into a new school," Zuberi recalls. "It still feels like a dream."
Just 16-years-old, that moment changed his life. Not only did Zuberi finish high school, but with the help of caring friends, teachers and colleagues he also found, applied for, and won more than 10 scholarships, enabling him to become the first in his family to graduate from university.
With success came the opportunity to pay it forward. As teachers and friends directed more and more students his way for advice on how to find and secure financial aid, Zuberi was inspired to turn his brand of student scholarship support into a business.
His story was writing like a fairytale, until a couple of years later his company, FundQi, underwent significant operational challenges that would require significant resources to move forward.
Then things began to unravel.
"It was a dark, dark moment for me personally and professionally," Zuberi says. "I couldn't see any way for us to get to the next step."
Struggling with severe depression and other mental health challenges, Zuberi was thousands of dollars in debt, sleeping on garbage bags for bedsheets.
"I was so broke, I couldn't buy a second pair of pants, how was I going to attract high-quality talent to my team?"
Then, a friend introduced him to Rise, and Zuberi secured a loan and the mentorship to do what seemed impossible—move forward.
Today, FundQi is a sophisticated, fully automated and affordable online service available to students at Carleton University, which helps them realize their full potential by creating matches to relevant growth opportunities—from scholarships, grants and bursaries, to internships and educational resources.
"FundQi wouldn't be here without Rise," Zuberi says. "Rise gave us a second chance and I want to be a success story to show them the ROI—to show them that they did the right thing."
One year after nearly losing everything, Zuberi's company has grown by 4,000%, helping clients secure an estimated $1.5 million in monies awarded, and now serving the entire Carleton undergraduate body for the foreseeable future.
And they're just getting started.
"We want to get into as many schools as possible," Zuberi says of future plans. "Our matching algorithm is pretty top notch and we're constantly finding new ways to get more students more access to scholarship and internships."
Today in Canada, $15 million in scholarships go unclaimed each year. Until that number is zero, FundQi has plenty of work to do.
"The way I see it, every scholarship that goes unclaimed is a Zuberi who didn't get a second chance."
For his vision and perseverance, Rise has selected Zuberi as the 2020 Rotman Family Entrepreneur of the Year!